WINTER outdoor dining options here
Six years in the making my Denver Guide is finally live! I will be updating this on the regular and will put in the last updated date here as well – 1/18/2023
To see what I am eating right meow, check out my Instagram story highlight "Denver Eats" or my hashtag #BMBDenverGuide
Just Visiting – Heading to Denver for the weekend? If this guide is a little overwhelming, I suggest checking out my Denver Quick Guide, where I highlight some of the best spots in town.
For The Locals – HELLO! So great to meet ya! Tell me what ya love and what ya hate, so I can hear from you! You can comment, DM, or tweet me.
Anywhere I left out? Please let me know, I love finding new places to go!
Where to find white queso in Denver
Wash Park/South Pearl Street


Sushi Den – This place has been packed every day since opening in 1984. Yes, you read that right, the 80's. This South Pearl hot spot, by Chef Toshi Kizaki, dominates the block; I mean he literally owns three restaurants and a parking lot on South Pearl.
Sushi Den is just as busy on a Friday night as it is on a Tuesday lunchtime. The restaurant is huge, so the wait is never outrageous, and luckily, they take reservations. Put your name in and explore up and down South Pearl. Or, snag a table at its beautiful sister restaurant, Izakaya Den, in the upstairs bar.
Izakaya Den – Sister restaurant to Sushi Den, this upstairs bar features a giant, glass retractable roof and is drop-dead gorgeous inside. Izakaya is a Japanese "Gastro Pub" so sushi plus "world food" make this a hit for sushi lovers and non-sushi lovers.
2021 Update – Currently Sushi Den and Izakaya have combined into one restaurant – one menu – where you can be seated in either space. To make a reservation you will make a reservation at Izakaya. Ototo is currently closed
Ototo – 2023 – Ototo is still closed but you can enjoy their ramen at Sushi Den! The third restaurant dominating South Pearl by Toshi Kizaki. Ototo means "little brother" so this little brother restaurant has a raw bar, robata grill, and has bomb.com ramen.
Taki Sushi – Cheap, delicious sushi with the most incredible service, Taki is all you need. I mean, even your water cup is always full here. I LOVE the Sex on The Beach Roll. Want to saki bomb? Totes cool here. I actually wrote a blog post on Taki back in the day, which you can read here.
Kaos Pizzeria – Really good pizza and perfect on a sunny day to sit in the garden/patio. On a Sunday, head to the South Pearl Street Farmers' Market then grab a beer and pizza at Kaos.
Max's Gill & Grill – Gosh, this restaurant just kills it on all fronts. It's one of my all-time favorite seafood restaurants and it's right in the heart of Denver. The decor is like an old ship, with a giant fireplace keeping it toasty and cozy during the winter months.
In the summer, the patio doors are wide open, making it feel like you're at the beach. Oh, and in the way back, a tiki bar! Head here for a great happy hour such as $1 oysters and ribs night.
Chook – Chook in Australia means chicken, and Chook cooks up the most delicious rotisserie chicken. and this cute little spot just opened on the corner of Pearl and Louisiana. Everything on the menu is soooo yummy. I love the Chicken sliders and roasted squash.
Park Burger (In Lohi Too)- I honestly don't eat a lot of burgers but Park Burger is fire, so are their decadent milkshakes, sweet potatoes fries, and waffle fries. I highly suggest the turkey burger with avocado and bacon…nom, nom, nom.
Devil's Food Bakery & Cookery – The popular, historic Gaylord Street has so many good spots and this bakery is one of my favs. Super yummy! It offers fresh food with a seasonal menu. One of the best brunches in the city – read more here.
Lincoln's Roadhouse – Part neighborhood drunk and part biker bar with a Cajun spin, this place is a hoot. Almost every night, there's live music and the dance floor will be popping. The crowd is definitely older, but quite entertaining. A great people watching spot too. Oh, and the hush puppies are amazing!
The Kentucky Inn -This Wash Park dive just got a big renovation, and even the menu has a new look. Anything pimento cheese is delicious! All in all, great dive bar and equally great food.
Mister Oso – Mister Oso is a shining star in Wash Park! Their second location gave a major facelift to the dark bar that use to occupy this space. Dinner and happy hour are viby and fun but yall the brunch is AMAZING. Their first location is in RiNo and its the same people behind Senior Bear and AshKara.
Adelitas Tacos – Love tacos? Love meixcan food and tequila, this is your spot. Dont miss the mezcal bar too!
Maria Empanada – Maria Empadnda is a Denver favorite. Her empanadas are known all over the state. If you have never had one you are going to fall in love with them here.
South Broadway/Englewood
Moe's BBQ – We frequent this location way too often. It has a bowling alley and small venue so great for groups and kids alike. Recommend the nachos with white queso; they are incredible.
Cochino Tacos – We were stoked this spot opened up in Englewood because the food, service, and drinks are fantastic. Frozen Paloma's are my ultimate drink. Great happy hour deals too.
Miyako Ra-men – Our go-to ramen takeout spot. I really like eating in as well, plus everything we've tried is delicious. We went last week and I got the sushi – yummyyyyy! I wouldn't be surprised if it's our new go-to sushi spot.
Taste of Thailand – Our local neighborhood Thai spot has been open for over 20 years. They use only the freshest ingredients from their very own garden. Order in or get delivery, you choose!
Breakfast on Broadway – One of our favorite brunch spots with great prices, and, of course, bottomless mimosas. Win, win!
More local neighborhood spots: Post Brewery
Broadway
Punch Bowl Social – Half restaurant, half bar, and half adult playground, what more could you ask for? Punch Bowl Social has it all with an adult arcade, bowling, shuffleboard, darts, and damn good food. Great for groups, too!
Canopy Bar – Recently, this has been our new go-to spot. I love the space and decor. It's great for groups and never too crowded. Important to note, they don't serve food but you can bring in whatever you want from a nearby spot. BYOF!
Cochino Tacos – Cochino opened a second location here with a giant patio that is so awesome during summer with the misters!
More fun spots on Broadway: Gozo, Adrift (Tiki Bar), Dougherty's Pub, Historians (Rooftop), and The Hornet
Cherry Creek
True Food Kitchen – This popular restaurant is popping up all over the country, and honestly, it's pretty damn good! If you haven't been yet, go check it out.


Blue Island Oyster Bar – One of the best oyster happy hours in town! A great little patio in Cherry Creek North makes it a favorite of mine.
Local Jones – Inside the Hylclon Hotel is the insta chic Local Jones. PS. As for the secret menu item – white queso!
Flower Child – Want healthy, delicious, Instagram chic? Then you gotta go to Flower Child – right next to the mall and Container Store
More great Cherry Creek spots: Machete Tacos, Olive & Finch, and Hillstone (aka Houston's, but for whatever reason, they don't have the creamy buttermilk dressing, so I don't go)
LoHi
Linger – Fun, vibrant, and different, this spot is booked weeks in advance, so go ahead and book now. It's delicious and super fun. Plus, the rooftop is fabulous. One of the many favored Edible Beats' restaurants in the city.
El Five – Probably my favorite rooftop restaurant in town. The views are simply amazing. It is another Edible Beats' restaurant with just the best vibe, cocktails, and tasty food.
The Bindery – In need of a "Sex in the City" kind of moment for brunch? The Bindery is your spot. Read more in my brunch post.
Avanti – A crowd-pleaser! This two-story food hall is centered around two giant bars and a balcony. Avanti has a consistently rotating group of restaurants, so everyone is happy.


Ash'Kara – Isralie and Mediterranian food meet insta chic. Of course, you really need to order all the dips and hummus but wowie this chicken was out of this world delicious!
Daughter Thai Kitchen – Yall this place is unreal good. If you have ever had Khoa Soi you know how delicious it is and their Khoa Soi is perfection
Uncle – Hands down the best ramen in town! I promise it's totally worth the wait. They are opening a new location in Wash Park. I, for one, can't wait!
Cart Driver LoHi – There is a location in RiNo too but we love this bigger location with a great patio! Oysters and Pizza is always a win


More great Lohi spots: Highland Tap and Burger, Root Down, Williams & Graham (Speakeasy), Forest Room 5, Park Burger
Downtown/LoDo
The Palace Arms at The Brown Palace – If you want to impress your parents, a hot date, or an out of towner, this is the spot to wine and dine. First, order drinks at Churchill's, then make your way over to The Palace Arms for one of the best meals this city has to offer. It may cost you a pretty penny, but worth every bite.
This classic hotel and restaurant are full of history so there will be plenty to talk about as you sip champagne and enjoy the fine dining experience. When the dinner portion is done, head over to The Ship Tavern for a worthy nightcap!



Kachina Grill – Located in the Dairy Block downtown, this swanky Mexican joint serves up festive food. The queso dip isn't white but it still gets five stars in my book. The tacos are served on Asian-like buns and are freakin' incredible.
Milk Market – My favorite Frank Bonanno, just opened his own food hall, where every single restaurant is his. Seriously, it's ridiculous and so damn good. A great spot for happy hour or to start off your night. Make sure to try the pork buns as they're heavenly. Again, I cannot stress this enough, everything is so damn good! As for you, Frank Bonanno, I love you. That is all!
The Dairy Block & Poka Lola Lounge – This property is truly amazing and there are so many shops and restaurants. Read my full post here. But I highly recommend drinks at Poka Lola.
Ophelia's Electric Soapbox – VIBEZZZZ like all the Edible Eats' restaurants, they have killer vibes. This building was once a brothel and the theme carried over into the interior. Also, its downstairs offers an intimate venue with great live acts, reggae night, and crazy brunch parties.
Rio – If you are in need of cheap Mexican, killer margs, great queso, and room for a large group, Rio is the one. A true Denver staple.
Osteria Marco – This is my favorite spot on Larimer Square, especially if you can grab one of the four outdoor tables. Frank Bonanno is a Denver-based restaurant legend, and everything he touches turns to gold. See Milk Market. A few culinary eats I highly recommend are the burrata, quinoa salad, and the arugula pizza. Nommmm!
Panzano – One of my first memorable meals in Denver is Panzano's happy hour. It is the bomb.com because all their main dishes are half priced in smaller portions. I still dream about the GRILLED caesar salad! They legit grill it which makes it amazing. You won't be disappointed!
Snooze – This eatery is so damn good, which is why it is always packed. Go early and be prepared to wait, but trust me, it SO WORTH IT.
Tupelo Honey – Southern food, anyone? Yes, please. We have been for brunch a few times and all in all, it's divine. Plus their "Frozes" are my favorite in town – read more here.
Bubu – For a quick power lunch downtown, this is my go-to. You can get grain/salad bowls made to order, plus if you need, ordering online is available. One of Troy Guard many restaurants around town.


Sunday Vinyl – Love wine? Incredible food? The best Soundsystem you will probably ever hear? Then make a resy at Sunday Vinyl. Every night is fun but Wednesday means a wine flight dedicated to a particular artist where all night you will hear their albums played on vinyl on that incredible sound system.


Cholon – Cholon is a Denver restaurant scene staple. Their french onion soup dumplings are next-level good. Great for a date night!
Highlands/Tennyson Street
Blue Pan Pizza – Good lord, their pizza is fabulous and they even got the awards to prove it. Do you like New York style? How about Detroit or traditional Italian? Well, they offer all of them, every single day. And each slice is so damn good.
Wendell's – Bar none the BEST pancakes in town. A popular brunch spot with tasty classics and a great patio. Also, Wendell's is perfect for larger parties.
Vital Root – Fast, casual, and uber-healthy food is real. Yes, you read that right! And you can find it at Vital Roots. It is 99% vegan, 100% gluten-free, and incredibly delicious. No matter how picky your friends are they will love it.
Sares Ramen Enclave – This little hole-in-the-wall Ramen spot on 32nd kills it.
American Elm – This is one of our go-to spots for dinner, the menu includes a mix of staples and seasonal dishes. The bar program is fantastic as well I always try a new cocktail with each visit. The patio under the elm is perfect in the sunny weather and during the winter they offer heated greenhouses. Also brunch is A+


Other Highlands Spots: Berkely Undtaped (Drinks), Call to Arms Brewery (+setlzer) Pinche Tacos, Fire on the Mountain Wings, Fat Sullys, Denver Biscuit, Taki Sushi just opened a 2nd location on 32nd
RiNo
Safta – James Beard Award winner Alon Shaya, opened up his second restaurant, Safta, this past August in Denver. It was welcomed with rave reviews. Seriously, I have never heard so much buzz around a restaurant here. Clay and I were lucky enough to eat there for the blog and had one of the most amazing meals to date. Read what to order here. MUST VISIT in my book!
Barcelona Wine Bar – I was stoked to hear a Barcelona Wine Bar was opening here as it's a coveted Atlanta spot of mine. Enjoy the great vibe, delicious tapas, and an extensive wine selection. And their patio is even bringing the vibe with a gorgeous setting.
Cart Driver – All you need here is their perfect wood-fired pizzas, oysters, and rosé, all day. It's my dream restaurant.
Los Chingones – This Troy Guard Mexican spot has a few locations around town – DTC, Stapelton & Colorado Mills. Their passion fruit Paloma is pure perfection. Hands down my favorite in town, maybe the world! The food is also so so good. I love the fish tacos but the Enchiladas are really delicious. Plus you can't beat a $5 happy hour marg!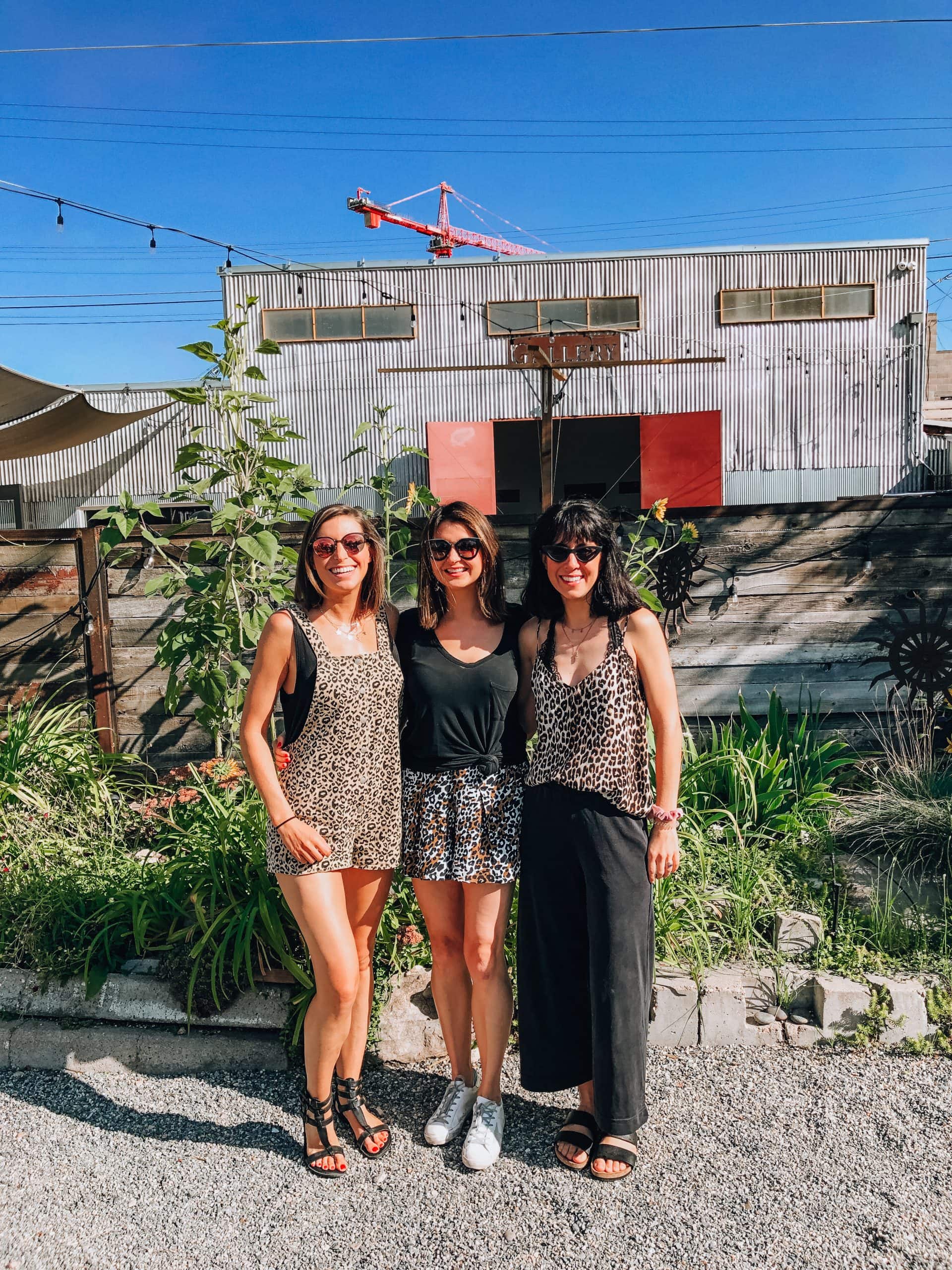 Ironton Distillery & Crafthouse – While I have yet to try the food or pizza this space is amazing! Huge patio area with all the games, an art gallery and a very cool indoor space. Perfect summertime hangs spot.




Hop Ally – It's small, its Asian fusion, its viby and delicious. Seriously you need to make a resy a few weeks out but it's totally worth it.
Number 38 – This spot is HUGE and is amazing for large groups or on a sunny day. Kind of like a food hall in that they have a lot of variety of food but its all one chef. Also a huge selection of local draft beer and cocktails.
More great RiNo spots: Denver Central Market, Park Burger (UGA Bar), and Nocturne Jazz & Supper Club, Mister Oso (mentioned in wash park section)
Five Points
Famous J's Original Pizza – Grab a late-night slice from the window or order to go – very NY style pizza from the guys behind Rosenbergs
Rosenbergs Bagels – Simply put, the best bagels in town. He also owns the other 3 spots listed here
Cap Hill/Gov's Park
Luca – Your local neighborhood Italian spot, featuring a wood burning oven! Clay and I went here for Valentine's day dinner and totally overindulged with the most decadent kinds of pastas. We recently ate here again and can't get enough of the truffle pasta! Currently, counting down the days till we return again. Oh, and yes it's one of Frank Bonanno's, too!
P.S. Thursday night is date night. An app, pizza, and pasta to share, plus a bottle of house wine for $50! STEAL.
Don's – Are you from the South? Then, you'll probably run into someone you know at this bar. On Saturdays in the fall, Don's is packed with USC Gamecock fans and rowdy at all hours.
Angelo's Taverna – Italian, oysters, and one of our favorite happy hours. Great for date night, too.
More Cap Hill spots – Pinche Tacos and Vesper Lounge
Congress Park/City Park/Colfax Area
Blue Pan Pizza – The best pizza. This is the 2nd outpost in the city. First in Highlands just go and get it all.
Pinche Tacos – Tacos, Tequila, Whisky – A few locations across town, Pinche is the OG restaurant that brought street tacos to Denver.
More nearby spots: Snooze, Tag Burger, Fat Sully's, Denver Biscuit Company, and Shells & Sauce.
Uptown/17th
Steuben's – We love taking out-of-towners here for a reasonably priced meal everyone enjoys. The trout almondine is perfection. It's just really good food every single time.

Ace Eat Serve – You will be greeted with delicious Asian fusion and a giant room of ping pong tables. Three worthy mentions; the wings, buns, and ramen. These are hands down my favorite wings in town!! SO SO GOOD
Park Hill/Central Park
Cavatelli – This Stapleton Italian restaurant is worth the drive from anywhere in the world! We had planned to eat at Stanley Market Place, but everything was packed so we decided to try Cavatelli, because well, they have pizza. We got a seat at the kitchen bar, talked to the chefs, and had one of the best meals to date.
Esters Pizza – Esters has three locations in Park Hill, Virginia Village & Wheat Ridge – Wherever you are, they are worth the drive, especially if you are a phish phan! The pizza is SO good but they also have a seasonal menu of apps, salads and mains too! Each location is very family-friendly and has lots of TVs!
Stanley Marketplace – This mixed-use development is a food/activity meca in Stapelton. The best of the best have a restaurant here, including Chook, Rosenberg's Bagels, Denver Biscuit Company and Maria Empanada.
Annette Scratch to Table – James Beard Award finalist? In Denver? Yep, Chef Caroline Glover is consistently turning out incredible seasonal dishes at her restaurant in Stanley Marketplace. This is a must visit
Wheat Ridge


Mr. Biscuits – When you wake up hungry go here. I can't tell you how damn good these biscuits are they are MOIST and flakey. NOT DRY. Sooo good and the cinnamon roll is the best in the city. This is a little mom-and-pop shop with the whole family working together to create some amazing food. Call in an order or go early before the buns sell out!
Esters Pizza – Just gotta call out the new location in "Gold's Marketplace" we love it! great to take kids or watch a game!
Golden
Golden Mill – Head to a hike? Go here after and enjoy a cold drink and some yummy food in the sun!