Thanks to The Dairy Block & Maven Hotel for a fun staycation weekend, to explore everything that is The Dairy Block.
The Dairy Block is your one-stop-shop for best of the best in Denver. I remember when I first heard about the development and I was so excited to visit Milk Market, Frank Bannao – Denver's restauranteur extraordinary, new food market hall.
After visiting, I quickly realized The Dairy Block was going to be more than just Milk Market. The Dairy Block is a perfectly planned mixed-use development or "Micro-District" that is inviting yet intimate. While The Dairy Block is a collection of different businesses the attention to detail and design shows everywhere. From unique tiles and light fixtures to gramable art installations.
If you are visiting Denver for the first time, this is the place to stay. You could honestly never leave this city block and visit some of the best restaurants and boutiques in all of Denver.
The Dairy Block Ally
The Dairy Block is split between two buildings with an ally in the middle, and this is not your average ally, this ally is an interactive experience that really creates the quintessential Dairy Block experience. String lights dangle across the alley and it's decorated to the nines for every season and holiday. For the Instagrammers, this is where you wanna get your picture!
Staying at the Dairy Block – The Maven Hotel
The Maven Hotel is a gorgeous boutique hotel that really anchors The Dairy Block development. The Maven spared no expense when creating the beautiful lobby, elevators, elevator lobbies, and of course the rooms. Our bathtub was huge! As was the shower and really the entire room. Ask for a room facing the ally to take in all the action.




The Dairy Block is two blocks from Union Station and a short scooter to RiNo, and only a block to Coors Field. So when you stay at The Maven you are smack dab in the middle of it all!
Maven Hotel Perks – Enjoy beer or margaritas from the Airstream in the lobby from 4 pm to 7 pm, Huckleberry coffee in the morning and a complimentary town car to drive you around downtown. Plus, as a guest, you get 10 to 15% off at basically every shop and restaurant in The Dairy Block.
Eating & Drinking at The Dairy Block
Anything you are craving you can find at The Dairy Block and it's gonna be some of the best in Denver.

Kachina Cantina – Hands down one of our favorite spots in Denver. The tacos on Navajo bread are so unique and so damn good, especially their breakfast taco. I also love the Chili Relleno and their queso is a must!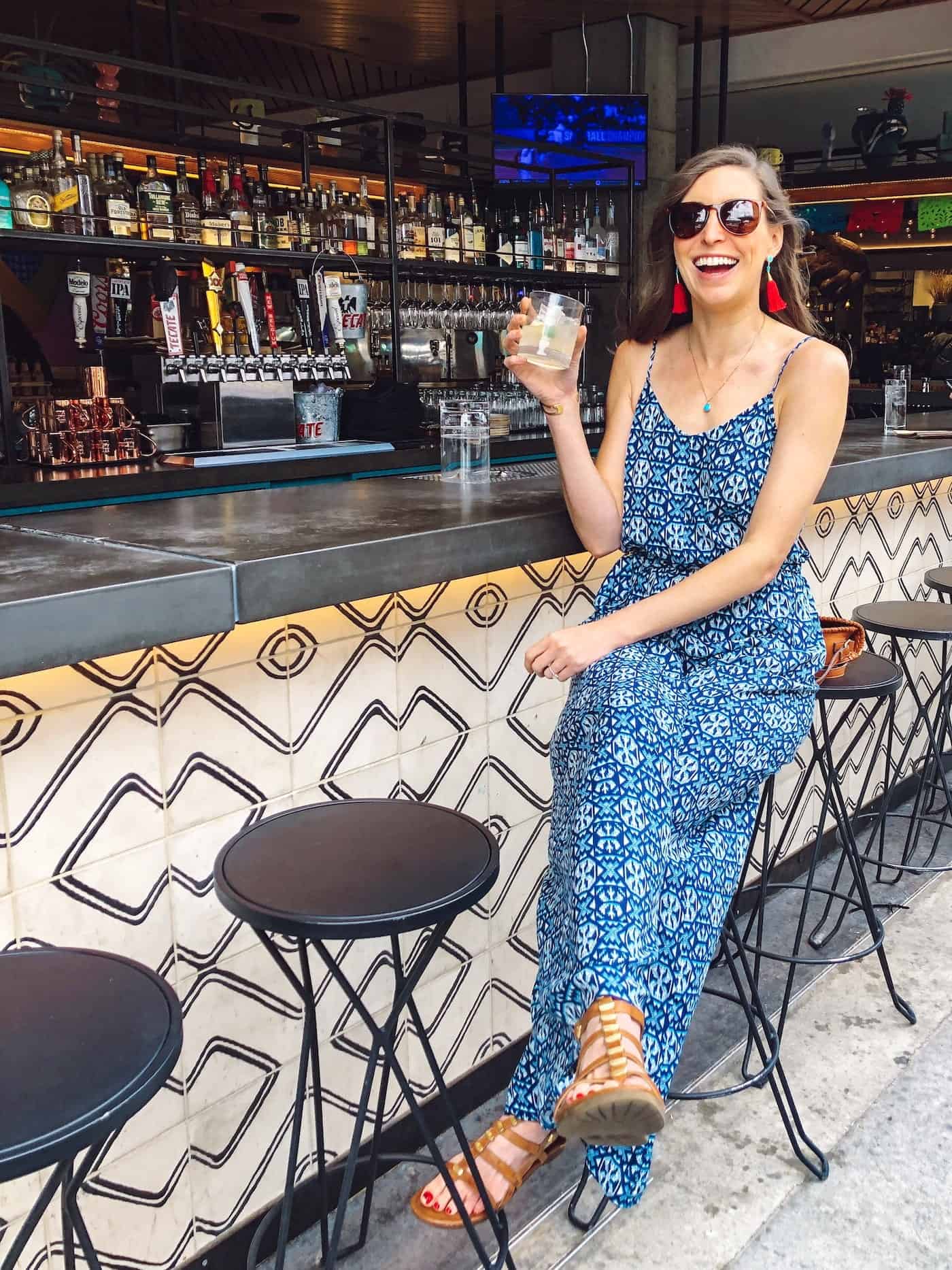 Milk Market – You're craving Bao Buns & Ramen but your bestie wants a Nashville Hot Chicken Sandwich and you both want ice cream. The Denver Milk Market can satisfy all those cravings in more with 16 distinct offerings. Settle up to the bar for a cocktail or a wine flight from the Cellar or grab breakfast to go from Morning Jones, Milk Market has you covered.
Huckleberry Roasters – Swing by for your free coffee during your stay at The Maven or 10% off
Engine Room – Located in the ally this whole in the wall is where to go for late-night slices. Oh, and they have Sicilian pizza too! P.S. This is another of Frank Bonanno restaurant too.
BRUTO – Inside of Free Market you will find BRUTO head here for oysters, small plates and wood-fired bread.
Blanchard Family Wines – This boutique California wine bar, has set up shop in the ally and offers cheese and charcuterie boards, perfect for happy hour.
Seven Grand Whisky Bar – Escape the cold and settle up to this bar that looks like a hunting cabin for an extensive whiskey bar and plenty of pool tables.
Poka Loka Lounge – Located in the lobby of The Maven this "hotel bar" blows every other hotel bar out of the lobby. Y'all the decor is perfection. The drinks are pretty fabulous too!
Shopping at the Dairy Block

Free Market – A collection of indie brands and boutiques in one giant market, kind of like a food hall but for shopping and congregating. Alchemy Works, Aesop & Beautycounter for your skincare, wellness and makeup, Westerland for indie outdoor brands, Clare V for accessories and AYR for your new favorite pair of jeans.
Fecth Shop – Fetch Shop is your go-to shop for emerging brands and local goods. Fetch Shop is the brick and mortar version of Fetch, the "flea/holiday market" heald around town with local vendors' food and music. Now, they have a permanent home to support these artisans.
Sarah O – I love Sarah O! I actually got my wedding band at her Tennyson Street location – excited to see her expand within the Dairy Block.
Heyday – Need a fun going out look head to Heyday. This super trendy boutique leopard print flares, chunky sweaters, and funky accessories all at a great price point too.
Other Retailers – Warby Parker.
I always recommend the dairy block for out of towners for the great food and fun ally. But after staying at The Maven this is also my number one place to stay! Once your book check out my full Denver Guide for other things to do around town! Feel free to DM me with any questions too.