On my way back from Oslo, Norway I did a stop over in Iceland via Iceland air. I landed around 4pm on Friday and left around noon on Sunday so I really only had one full day to explore Iceland. In October roads & weather can be pretty unpredictable, so I decided against renting a car, which can be the cheapest way to get around the country, and instead booked a full-day tour.
Iceland has so many spectacular places to visit, but I was dying to see Black Sand Beach on the South Coast so I searched specifically for tours that included Reynisfjara as a stop.
You can watch my entire trip to Iceland on IGTV

What to look for when booking a tour in Iceland
Bus Size – Some tours are literally giant coach busses dropping of 50 tourists at a time, these are cheaper but I wanted a more intimate experience. So I looke for a tour with a 15 person max.
Locations – Iceland is small but filled with things to do and see. Most tours either visited the magic circle or south coast.
Meals Provided – If I am going to be gone for 12 hours – 9 am to 9 pm there better be lunch and snacks!
Extra Excursions – Some tours are in and out, I wanted a tour that was a little more involved like climbing a glacier! Again, if I am going to be gone all day I want to get out there! Not be hopping on and off a bus all day.
NiceTravel – One Day South Coast Iceland Tour
I reviewed tons of different tour groups and landed on Nicetravel. The price point was perfect plus this tour came with a glacier hike which I did not see offered by other tour groups. Nicetravel ended up being way more bang for my buck as we got to visit a waterfall that can only be accessed by private property. Property that Nicetravel happens to own. We had a 16 passenger van that sat two on one side one on the other than four in the back. Great for me as a solo traveler!
The tour picked up right outside my Airbnb but the tour does pick up at a few spots around town which is super convenient.
Part of our group was on an overnight tour that stayed at a Nicetravel's Hostel out on the South Coast. We stopped in for coffee, snacks, charge our phones and to use the restrooms, twice during our trip. This was a great perk I didn't realize we would get and I am not sure if other tours offer it.
Nicetravel South Coast Tour Stops
Urriofoss (the most voluminous waterfall in Iceland)
Seljalandsfoss (Waterfall you can walk behind)
Irafoss (private waterfall)
Skogafoss (super tall waterfall)
Solheimajokull – Glacier Hike
Reynisfjara @ Black Beach
Urriofoss – The most voluminous waterfall in Iceland
This was the first stop of our tour, and it was fairly quick. We walked down a path and took in the different views then hopped back in the van for our next waterfall.
Seljalandsfoss – The Waterfall you can walk behind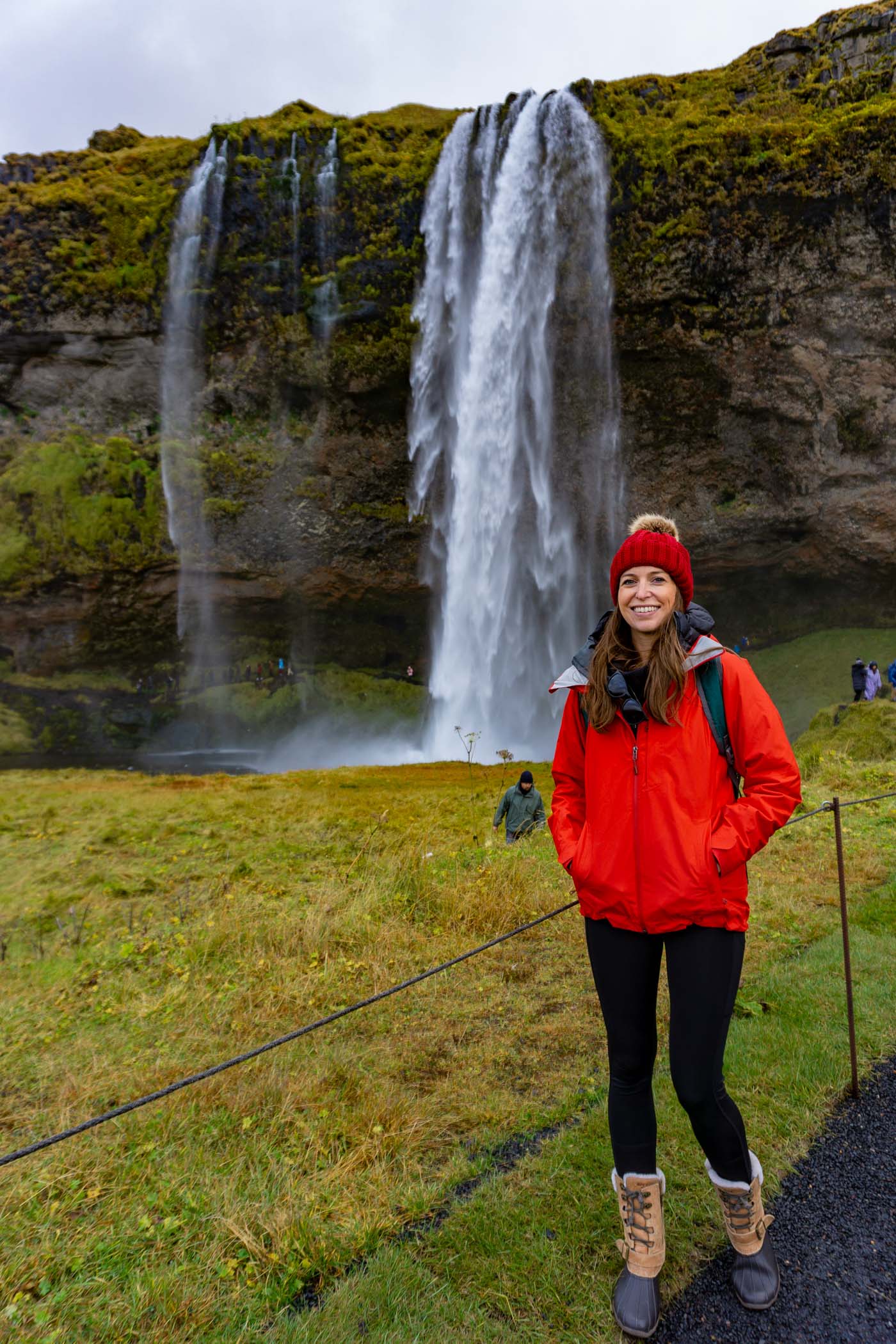 Wow! Be sure to bundle up for this one. Once you get behind the falls it gets super cold as you get a light misting. I saw lots of tourists here and a few bad apples not following the rules and walking on land where you are not supposed to take photos. Please follow the rules!
Irafoss – Nicetravel Private Waterfall
Another major plus to Nicetravel, your own private waterfall! Only on the Nicetravel can you see this waterfall and walk right up to it!
Skogafoss Waterfall
Skogafoss is the waterfall you see all over Instagram. We were lucky to see a beautiful rainbow from end to end. To the right of the waterfall is a long staircase you can climb to see the top of the falls. It's a workout for sure but the views are worth it.


Our tour had lunch set up at the restaurant next to the falls which were surprisingly really good. I got the traditional cod.
Solheimajokull – Glacier Hike

I was so pumped about this part of the trip. I mean when else are you going to walk on a glacier in Iceland! Our guides trained us on proper glacier walking techniques and what to do in case someone falls in a ravine – the worst-case scenario. The hike is only about 2 hours round trip so you're really just exploring the edges of the glacier but I felt super safe the whole time.

We walked about thirty minutes before stopping for pictures and to drink that ice-cold glacier water. So so cool! The colors here were stunning with the volcanic black dirt mixing with the ice blue glacier against this beautiful mossy green hillside.






Reynisfjara @ Black Beach
Our last stop was Black Sand Beach, which ended up being an incredibly powerful and moving experience for me. You can read more about it in my blog post.
Before sunset, we got back in the van and drove a little bit further west to the town of Vik to grab snacks for our drive home. From the parking lot, you could see the Black Sand Beach from the other side with the little shark's teeth sticking out. Pretty cool! From there we made the long drive back to Reykjavik. 9 am to 9 pm was exactly right. I was exhausted from the day so I got ramen from around corner and drank wine and ate cheese in the comfort of my Airbnb LOL- yay solo travel!
I'd highly recommend Nicetravel if you are planning to do a guided tour in Iceland – not sponsored! Read all my Iceland post here