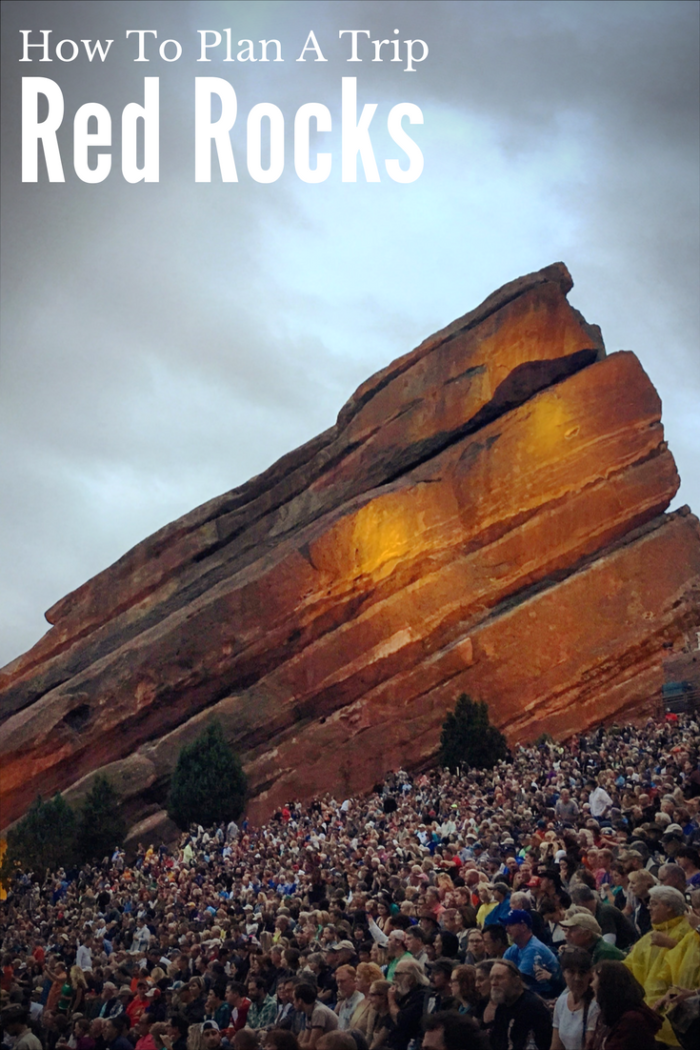 On my first trip to Red Rocks in 2009, we had no clue what we are doing. We stayed in a dinky hotel near Red Rocks and took turns staying sober to drive to Red Rocks every night. Silly!
After five(+) NINE 10 years in Denver and too many trips to Red Rocks to count, I am now an expert on how to get to and from the show, what to bring and how to get around the venue like a pro. If you are making the pilgrimage across the country for a show or even if you live nearby, this guide is for you! TLDR – Bring a rain jacket, just bring it.
Traveling To and From the Show:
2023 Update
Getting an uber/lyft out of Red Rocks is a hot mess. By far the easiest way to and from RR if you plan to have fun and not drive is a bus. Your ride will be waiting when the show is over no need to worry about trying to find a ride.
RRX Shuttle to Red Rocks – When purchasing your tickets, you can buy a shuttle pass from CID. These buses pick up from Boulder, Downtown, and Capitol Hill. We did this a few times last summer, and it worked great.
Bus Party Co – Hop on a party bus from Zepplin Station in RiNo. You have to become a member to book a ride (totally free) and once a member you get discounts and invites to events etc, but you can also just book a ride to and from the show. Once you become a member of the site, you can get all the details. We used Bus Party Co to Billy Strings at Firstbank and it was super easy and fun!
Party @ Red Rocks Private Ride – Got a small group going to a show then check out this private ride! For $299 (not including tip) you up to 7 people can basically have their own tailgate in the north lot. Your ride includes chairs, a cooler, Bluetooth speakers, and a knowledgeable host. The car is yours for the night, so get picked up in town, pick up snacks and booze, then head to the lot. Get all the details here We did this for MMJ last year and it was SO easy – highly recommend and tell them you came from my blog!
Esters Pizza "The Esters Line" – Our favorite phish-themed pizza spot has a shuttle for select shows from their two locations in Park Hill (Oneida Park) and Wheat Ridge. Even if you don't ride a bus from here you should go for their amazing pizza – really everything on the menu is A+ (this shuttle is run by RRX shuttle)
Bus To Show – The OG ride to the rocks – These converted school buses have been taking concertgoers to shows for years. Round trip is super cheap at $35 a head. Buses pick up in Denver, Ft. Collins, and Boulder.
Book your own party bus
Uber/Lyft
You can easily get Uber or Lyft to Red Rocks. However getting one out is tricky, be prepared to wait or have your person cancel. Toward the end of the show, I suggest checking your app. Join the free wifi at Red Rocks for better service!The designated pickup area for ride shares is in the Bus Lot, you can't miss it.
Cab
You can cab and there is a cab line near the post office for those who want to take one… but this is probably your most expensive option.
Drive
If you are driving to the show, go early to park in the Upper North Lot. This is my favorite spot to park because you can enter the venue at the top or bottom. The top is the easiest on your legs and lungs. Plus, you get to drive through a tunnel that is super awesome.
Lots
Act like a local and know the names of the various parking lots so you can find your way around.
Upper North: This lot does fill up fast so it's for the early birds. Why is this lot so awesome? One, you get to drive through a tunnel. Two, you can access the venue from the top or bottom. It's WAY easier to enter from the top, then walk down to your seat. This is also where you will find limousine parking.
Upper South: Been to this lot once in my entire life. Entering the venue from here will rap you around the venue on a raised walkway and funnel you in and out like cows. Be sure to moo!
Lower North: If Upper North is full, you will be directed to this lot. You can easily walk to Upper North from the north side of the lot or walk downhill and you will see a cut through to Upper North. This used to be a super steep hill that people would scale up and down until a few years ago when they added stairs. Continue walking and you will see a stairway on your right leading into the venue. This is my preferred entrance and exit.
Lower South: This lot is also one of the first to fill up and home to Shakedown Street. Find beer, water, grilled cheese, posters, and heady crystals here. Aka this is where vendors set up.
Bus Lot/Lower South Lot 2: South of Lower South is where you will find the buses.
Can't find a spot? Totally cool to park on the road! Best to flip around and park facing the opposite way for an easy exit.
Box Office/Will Call: Will call can be easily accessed by the first two entrances from I70 (1 & 2 on the map) not so easy from Morrison (3 & 4 on map). Most buses enter from I70 and will stop at Will Call for riders to grab their tickets. If you come from the Morrison entrance, unfortunately, you may have a walk to the Box Office.

In the Venue
If you are coming from the Bus Lots, Lower South/Shakedown, I highly suggest entering from the Lower South entrance (the dotted line next to the Upper South lot on the above map). Walk up the road, passing the Trading Post on your left, until you see a big staircase. This is the easiest way in and out of the venue. Seriously. Always enter and exit this way. The exit is larger than the other, therefore it moves faster. So when you are in the venue looking at the stage, exit bottom left!
From top to bottom, Red Rocks is a 100-foot elevation gain and you're already at 6,450 feet above sea level so you will feel it walking up and down the stairs. Take your time!
Finding Your Seat
If the show is general admission, it's a complete free for all. You can go early and get in line to claim your spot. If the show has reserved seating, typically the very bottom and top are GA and the middle reserved.
A few choice words on the standing room: If you are in the lower part of the venue, you will most likely be two deep to a row. One person on the wooden ledge, one person in back. This is totally normal. The higher up you are, the more room you will have. If you need space and want to be up close, get VIP. If it's a reserved show, you will find people in your seats, just kindly ask them to move. They probably have no clue it's reserved seating.
The higher up you go, the windier it can (potentially) be which sometimes really affects the sound. But damn! Your view will be good. If you're only going one night, I suggest watching part of the show from down low and going up at least once to take in the view from the top.

The Museum
At the top of the venue is an amazing museum on the history of the venue and a must-do! The museum gives a history of Red Rocks from its geological formation to present day. Did you know the very steps you sit on were first built in by a New Deal Project? Pretty Crazy. The museum also features a musical history of the venue with a plaque for every show played. The Southwest Heart of the Rock Theatre room contains memorabilia from some of Red Rocks' most famous performers. This room often has a rotating exhibit of either artwork or maybe a movie. This is a great place to escape the rain and cold too. You will also find two concession stands and two sets of bathrooms.
Bathrooms
There are bathrooms in all four corners of the venue. At the very top of the venue is two handicapped single-stall bathrooms. There are large bathrooms with hardly any lines behind you in the museum. Walk to the back and look for the staircases.
If you are looking at the stage on the bottom right side (Mike side), there are actually two sets of bathrooms. Walk all the way down to the stage, then right to the concession stands. Looking to your left, you will see a small staircase with a restroom sign pointing down. You have now found the secret bathroom. Congratulations! There is almost never a line here.
Concessions
Red Rocks' food is actually dynamite. You can find delicious pizza, Philly cheesesteaks, hot dogs, and more. The top of the venue has the largest variety of food to choose from.
New for 2021 the venue is totally cashless so it takes a bit longer to run a card, wait for it to bounce around in space before a receipt is printed for you to sign. So there is a Red Rocks App where you can ORDER in advance, then skip the line and pick up your drink by having them scan a QR code and show your ID. This is seriously a game-changer!
The alcoholic drink limit is two
There is a full bar at the top of the venue and left side(looking at the stage) closer to the bottom
You can bring a refillable water bottle – fill it in the WATER FOUNTAIN – do not drink the sink water
VIP Red Rocks
So you shelled out the big bucks for VIP? Congrats! You get some pretty cool perks. You will get to dance the night away in a roped-off area, typically next to "Front of House". And you will get to enjoy the VIP room in the tower. Looking at the stage, on your left, will be the door to the side stage; waltz through here to the very top of the tower and enjoy! You really can't enjoy the show from here, but it's a great escape from the rain and has a private bathroom.
Now for the very special, with an all-access pass and probably a bestie running lights or sound, you may get the chance to walk the tunnel. Underneath the stage is where all the crew and artists reside. For the crew to get from backstage to the front of the house, there is a very special tunnel. Every artist who has ever played Red Rocks signs the walls of the tunnel!
The Weather at Red Rocks
It will 90 percent of the time rain at Red Rocks. BRING YOUR JACKET! I have been in multiple downpours at Red Rocks sometimes, they last 5 minutes sometimes and the entire set.
When checking the weather for Red Rocks, check the weather for Morrison, not Denver. Denver is a good 25 minutes drive and since Red Rocks are in the foothills, it has completely different weather patterns. The sun will set, the wind will pick up and you will get a chill so bring a jacket. Actually, bring a rain jacket.
I cannot stress this enough, bring a rain jacket! Ninety percent of the time it's going to rain and if it doesn't rain it will probably be windy and you will wish you had a jacket. If you forget a rain jacket and there is a monsoon, they do sell ponchos at the concession stands. However, if it's super stormy, they will shut down the venue and there is basically no shelter so you won't be able to get a poncho until it clears up. So bring your jacket!
My first Red Rocks show in '09 had a two-hour rain delay. I have twice been on my way into a show and the venue has closed due to bad weather. Both times we were closer to the entrance than our bus so we rode out the rain in line. I have bought multiple long sleeve shirts at shows to stay warm when I have forgotten a jacket, so just bring it. You can stuff it under your seat during the show!
What to Bring to Red Rocks
Refillable water bottle
Rain Jacket
Sweater
Camera
Rain Jacket
Comfortable Shoes
Extra Charger
Rain Jacket
Hat – if you run cold a hat is game changer, I always bring one
Not sure what to wear – layers! Layers are your friend Colorado weather changes rapidly. I dont care how much fun you are going to have you will probably get cold and wish you had a layer.
2023 Bag Policy
There is a new bag policy for 2023 which basically says no backpacks. I have started to just bring a sturdy reusable cooler/grocery bag that zips up and when we go into the show we put all our jackets etc and it goes under the seat.
Single pocket bags and clear bags no larger than 13" x 15" x 8"
Small purses and fanny packs that are 6″ x 9″ or smaller
Where to Stay
Denver
You can really stay anywhere, but I recommend Downtown Denver. You will be steps away from all the necessary food, shopping, and drinking. I prefer Airbnb, but for boutique hotels check out The Source Hotel (pool), Maven @ The Dairy Block, Rally Hotel (Pool), Ramble Hotel, or Crawford at Union Station. Cherry Creek also has a number of hotels with lots of restaurants in a fun walkable neighborhood – it's next to the mall and more high-end and not a lot of bars. But more convenient for friends who live in say Wash Park/Platt Park/DU area.
Boulder
The St. Julien Boulder is amazing if you can swing the price. Otherwise, your best bet again is Airbnb.
Now that we have nailed the logistics, it's time to plan the rest of your trip!
Denver Restaurant Guide by Neighborhood
Best Patios and Rooftops in Denver
Top 10 Things to Do in Denver
My favorite pizza in Denver
Where to find white queso in Denver
Best Brunches in Denver
Red Rocks adventures – as you can see – always bring your rain jacket